Gettysburg Battlefield, PA -- Devil's Den
The state of Pennsylvania is considered to be one of the most haunted states in American. At Gettysburg throughtout the years there have been reports of strange ghost like people resembling Union and Confedarate soldiers.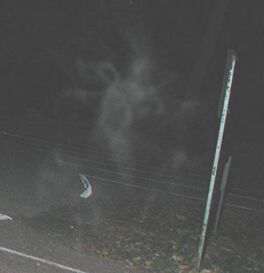 At the Farnsworth inn built in 1810, this brick structure is said to be the dwelling place of several Civil War era ghosts, and many people have seen the ghosts of the soldiers here.
At little round top where most of the fighting took place there has been reports of a ragged Union soldiers who stalks the area, this ghost was reported to carry geniune civil war era weapons and he smells of gunpowder. In 1993 when a movie was being fiilmed in the area this ghost was seen approaching some actors telling them how furious he felt the battle was going and gave them some bullets. He was believed to be an extra at first until the actors gave the bullets they were given by this ghost to the movie armourer, he said he never gave anyone these bullets and they were actual real civil war rounds.
There is a large, distinctive outcropping of rock in one section of the Gettysburg battlefield known as Devil's Den. Dozens of ghost sightings have been reported here by tourists over the years. One of the most well-known is that of a barefoot man dressed in a butternut-colored shirt and floppy hat, which fits the description of a rag-tag unit from Texas who participated in the battle. Those who have met this spirit report that he always says the same thing:
"What you're looking for is over there"
as he points toward the Plum Run. He then vanishes into thin air.
Some people have reported then when walking through the battlefield they can hear screams and the shouts of soldiers. Perhaps the most strangest ghost sighting is the phantom on horseback, sightings of this phantom even go back to 1863 when the battle was fought. Union soldiers reported spotting the ghost of George Washington on horseback leading the Union soldiers to victory, sightings of this phantom continue to this day.
There is a direct connection between a tragic, violent or untimely death and a haunting. If a young man passes suddenly and instantaneously in a terrible car crash, the energy emitted at the time of the accident is so strong it tends to leave an imprint on the environment.
July 2011 From Clifton Simes: I noticed you had a photo up on your website where there is question as to whether or not Joshua Chamberlain is in the photo
This event will continue to playback year after year like a segment on a video recorder, leaving behind voices, noises and images, until the energy dissolves and the tape wears out.
Carlisle Indians at Devil's Den (Gettysburg, PA) Postcard, Carlisle Indian School
If the death of just one young man is extreme enough to permanently impact the area for years to come, then what about the death of 51,000 men?
On July 1, 1863, Confederate General Robert E. Lee led his troops from Northern Virginia up to south central Pennsylvania, to a small, rural town called Gettysburg.
1919 at Devils Den, Gettysburg
He was confronted there by Union General George G. Meade, and although a scrimage had not been planned, a three-day battle suddenly ensued that was extremely violent and ultimately very bloody.
The Confederates were defeated and pushed back to Virginia, but the battle resulted in 51,000 American casualties, including one civilian casualty, a woman by the name of Jennie Wade who died when a stray bullet entered her window at the very beginning of the battle.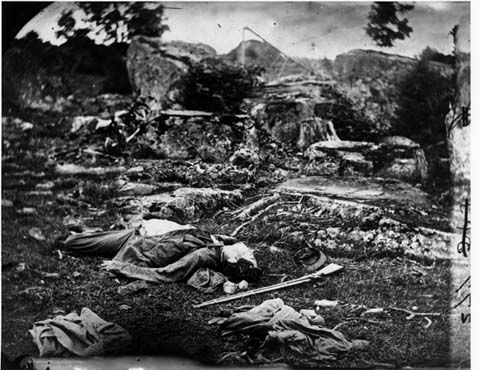 It was a morbid massacre, and is considered to be the turning point of the Civil War even though the fighting would continue unabated for another two years.
Because of the instances of brutal hand-to-hand combat and high number of deaths, it is believed that nearly all 40 miles of the Gettysburg battlefields are ripe with paranormal activity. The most active location, however, is the area known as "Devil's Den".
The rocky area full of massive boulders really does look like a lion's den. Due to it's unique layout, a sharpshooter was able to hide behind the rocks in "blind spots", and systematically take out hundreds of soldiers as they passed through unknowingly without being seen.
Eventually, Union forces were able to use mirrors and field glass to determine the sharpshooters location and kill the man.
Photography was in it's infancy during the Civil War, and it is said that photographer/war correspondent Alexander Gardner was at Devil's Den snapping pictures right after the battle ended.
In order to get a better shot, he instructed his assistants to move the bodies of dead soldiers to different locations so he could get a better picture.
Supposedly, he even went so far as to drag one particular fallen soldier to the pile of rocks behind the blind spot so he could snap a picture and fabricate a story about the unrelated man being the infamous sharpshooter.
Famous Devil's Den photographs
It is believed that since these men were not left in their final resting places, their souls have never found peace.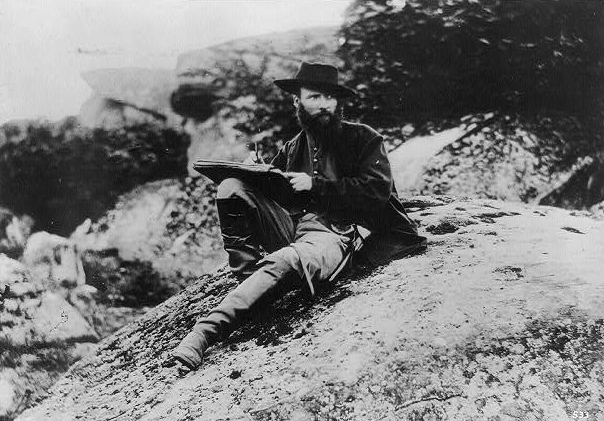 From that infamous day on, photographers have had inordinate amounts of difficulty taking pictures in Devil's Den as well as in several other areas of notorious fighting.
My mother and I visited Gettysburg a few years back, and we experienced this for ourselves firsthand. Before heading out to Devil's Den, we both put new batteries in each of our digital cameras, brought along extras just in case, and fully charged the battery on the camcorder.
Regardless, within minutes after entering the den, both our camera batteries went from full to empty in a matter of moments. We replaced them with new ones only to have it happen again. At this point, I brought out the camcorder, which held a better charge.
captured about five minutes worth of footage before the battery went completely dead. There are also reports of malfunctioning cameras developing images that weren't actually there, such as apparitions of soldiers or weapons.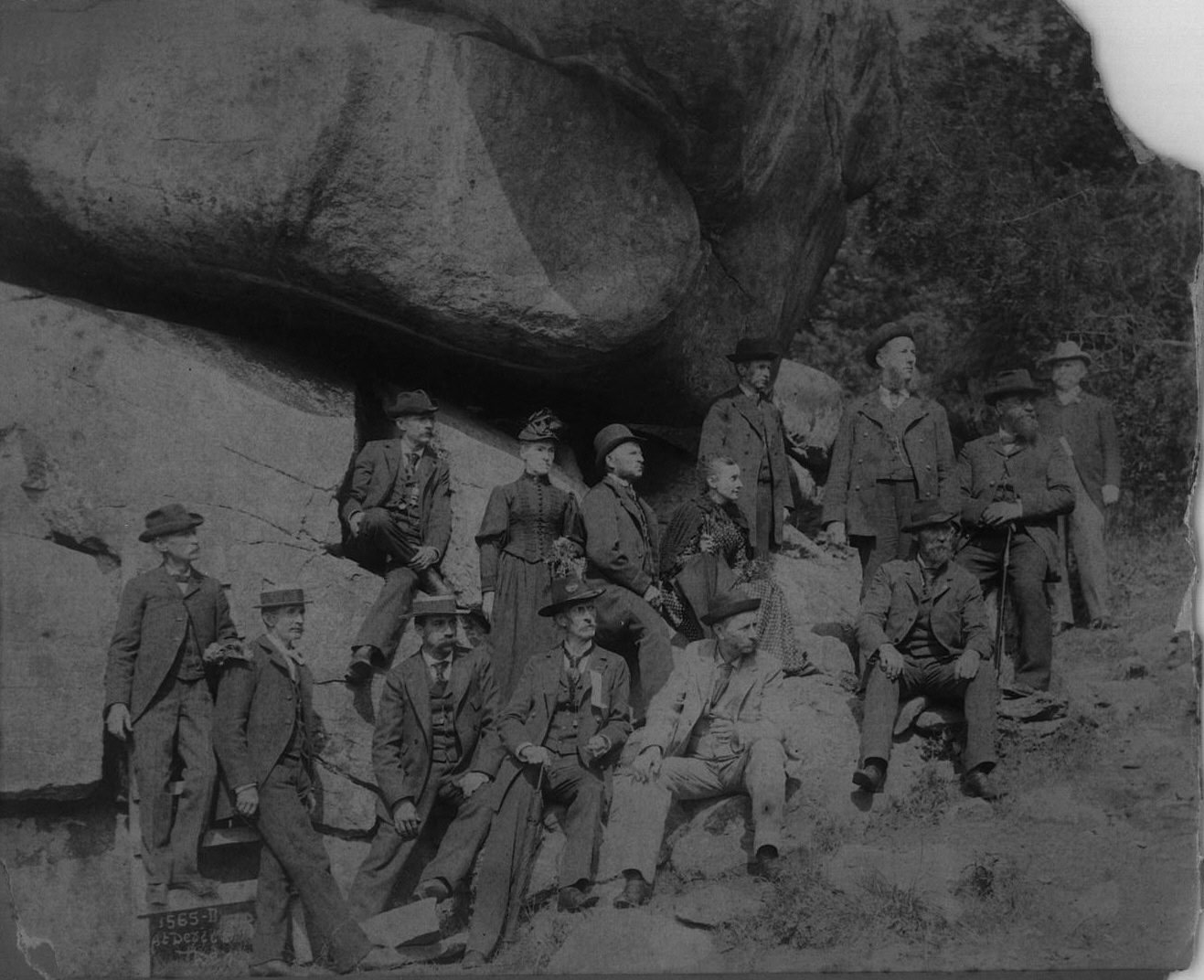 Devil's Den, Gettysburg National Battlefield Park, Pennsylvania
Triangular Field, in particular, is one place where tourists will take pictures of the grassy field but will see only black when the film is developed.
Jennie Wade, the one civilian casualty I mentioned, is said to wander the house where she died along with the ghost of her father, who was institutionalized after her death and ended up passing away in the "poorhouse." Several people have reported seeing a rugged man, barefoot, with a floppy hat and sloppy, ragged clothes on the rocks at Devil's Den.
According to Civil War buffs, this perfectly matches the description of the unkempt, poorly dressed Texans who were at Gettysburg fighting for the Confederate Army in 1863. Gettysburg Battlegrounds frequently has volunteers scheduled to reenact the prominent battles for the enjoyment of passing tourists.
However, there have been countless reports of visitors witnessing a "reenactment" on a day when there was not one scheduled, and no actors were even in the area.
Devil's Den hasn't changed much in the 144 years since the battle was fought, which could account partially for the high level of paranormal activity that takes place there.
For the spirits that exist in this location, the surroundings look exactly as they did the day they died, a factor which could lead the restless ghosts to believe that the war has never ended, as they continue to fight the same battle day after day after day.
Ecto captured in Triangular Field
Vapor in a picture taken during the lunar eclipse
GETTYSBURG EVP -- At 00:12 a little girl speaks in a sing-song voice