"When you hear the Smiths and Morrissey, you don't think strippers ... When you see the show, it makes total sense."
It's a week before a most sacred date on any Smiths fan's calendar, the birthday of one Steven Patrick Morrissey.
In Los Angeles, where the stream of fan events is near-constant, May comes with an explosion of Moz-mania.
The DJs bust out their old Smiths singles. The bands brush up on cover versions.
Here, inside a small Mid-City club called Fais Do Do, Peepshow Menagerie is preparing for what is perhaps the most unusual Morrissey tribute in town—a burlesque event called Let the Right One Slip Off.
(L to R) Iza LaVamp, Mercury Troy and Holly Go Darkly dance to "Some Girls Are Bigger Than Others.
"When you hear the Smiths and Morrissey, you don't think strippers,"
says Lux LaCroix.
A well-known burlesque performer and choreographer, Lacroix is a longtime fan of the Smiths and Morrissey who performs in the show.
Tonight, she'll be doing a
"reverse drag"
routine—where she switching from female to male clothing—to
"This Charming Man."
She adds,
"When you see the show, it makes total sense."
Peepshow Menagerie has taken on a lot of themes in their monthly shows.
To date, they have paid homage to everyone from Ed Wood to David Lynch to David Bowie.
For co-producer Chris Beyond, though, the Morrissey tribute is a very personal one.
Beyond, who grew up in Los Angeles' suburban South Bay, is an ardent fan of the band and its enigmatic singer and his own fascination with the subject matter is evident in every aspect of the production.
Indeed, the title of the show is a play on a Morrissey B-side,
"Let the Right One Slip In."
Seraphina Wilder and "I Have Forgiven Jesus"
The promotional images that floated around Facebook prior to the event evoke the Smiths record sleeves.
"We are crazy about research,"
says Beyond. A graphic designer by day, he studied the fonts that The Smiths used to try and match his promo material to the band's style.
In between acts, a carefully selected mix of tunes plays in throughout the club, incorporating songs the Smiths covered, artists that influenced Morrissey and more.
Even the opening band Ghost Noise, whose sound is synth-based, are Morrissey fans.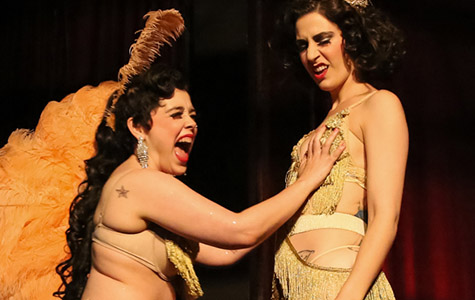 This is the third annual installment of Let the Right One Slip In and Beyond is still adamant on making sure that the audience knows that this is a project fueled by fan love.
"I wanted [the crowd] to understand that I knew what I was talking about, that I understood the theme and I loved Morrissey and the Smiths,"
he says of previous shows.
That continues this year, when Beyond tells the audience about his own introduction to The Smiths. His uncle handed him a dubbed cassette.
Beyond like the music enough to head to a local record store and get the band's then-recent release Strangeways Here We Come.
That's where he found out the Smiths broke up.
There's a lot that can be done with the Smiths and Morrissey tunes in the burlesque world. Leggy Lass Greenleaf
(certainly, the best burlesque name we've heard in a while)
and Mr. Buddy performed a gender-swapped Pepe Le Pew homage to
"The More You Ignore Me, The Closer I Get."
Naturally, "Some Girls Are Bigger Than Others" made it into the night, with a routine from Holly Go Darkly, Mercury Troy and Iza La Vamp, all of whom also did solo numbers. Boylesque performer Captain Jack Heartless took on a more recent Morrissey track,
"Ganglord,"
with help from Veronica Voss.
Greta Grenade takes on "Meat Is Murder" at Peepshow Menagerie's the Smiths/Morrissey burlesque tribute.
While comedy was part of the show, one of the numbers was particularly somber.
Midway through the night, Greta Grenade emerged with a bear mask and furry brown coat.
As the moan of
"Meat Is Murder"
stirred through the room, she gradually revealed the words strategically placed on her body—like
"rump"
and
"loin"
and other cuts of meat.
As a statement on animal rights, it's more effective than a PETA campaign and, as a tribute to The Smiths and Morrissey, it's absolutely appropriate.
After the performance, host Chris Beyond tries to the lighten the mood.
"What's happy?"
he asks the crowd before responding on his own,
"A cemetery!"
Enter performer Holly Go Darkly, dressed in a dark cloak and ready to shimmy and shake to The Smiths' ode to dead writers
"Cemetery Gates."
For the performers, this theme presents an opportunity that other burlesque shows may not.
"There are other shows that are just for specific bands,"
says Mercury Troy,
"but I feel like the other bands that are picked have a broader sound range."
Mercury Troy performs to "Girlfriend In A Coma"
Captain Jack Heartless adds that, even though these songs might not have the stylistically diversity that one might find in a David Bowie or Freddie Mercury set, the lyrics are.
"Lyrically, his content is all over the place and that's what I think gives the interpretation,"
he says.
Troy agrees with him.
"This is one of the few shows where you kind of have to rely on lyrics,"
she says.
"I feel like most burlesque shows actively don't and this is the only one where you can actually get away with relying on the lyrics because the people who are coming to watch this know this music so well, that they know the one word that you're referencing in the song."