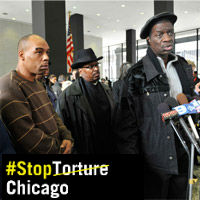 You just helped win restitution, rehabilitation, and compensation for survivors of racist police torture under former Chicago police commander Jon Burge.
Today is a historic day.
Today, the Chicago City Council officially passed landmark legislation that will provide reparations for the men and women who were tortured under former Chicago police commander Jon Burge.
Under the direction of Burge, at least 100 people of color were tortured - beaten, electrocuted, suffocated, and subjected to mock execution.
The all-white detectives often hurled racist slurs at the men they were abusing.
Today's vote comes 43 years after Burge tortured the first known detainee. After decades of struggle, torture survivors will finally see the rehabilitation, compensation, and restitution they need to begin to heal. These reparations will ensure that the people of Chicago never forget the past - and that shared memory will help illuminate a path forward for survivors of police abuse.
Your voice and your activism made helped make this step possible.
In the wake of protests across the country demanding police accountability, this victory is an important step forward in our nation's struggle to rectify a history of racial profiling and other abuses by law enforcement
This is what reparations will look like for police torture survivors who suffered under Jon Burge:
Formal apology from the Chicago City Council




Free college education or vocational training for torture survivors and their families




Education on police torture and other abuses in Chicago public schools




$5.5 million in financial compensation




Public memorial to torture survivors




A dedicated counseling center for survivors of Burge torture and their families - the U.S.'s first center for survivors of domestic police torture
When torture survivor Darrell Cannon spoke at Amnesty International USA's 2014 human rights conference, he said something I'll never forget:
"I'm a firm believer that you can buck the system; you know, people power can move mountains. And because of that, I get up every day hoping and praying that I get the opportunity to come before a camera or some people and to let them know what happened and to say, 'Please don't let it happen again. Please stand up and demand that justice prevail in these situations.'"
Together, we moved mountains.
Thank you for your activism and for demanding justice.