Assassination of Mahmoud Al-Nuqrashi (1948)
On 28 December 1948 Abdel-Maguid Hassan, a member of the Muslim Brotherhood, assassinated prime minister Mahmoud Al-Nuqrashi Pasha weeks after he had outlawed the Muslim Brotherhood. Hassan, a veterinary student at the University of King Fouad, was wearing the uniform of a police lieutenant when he shot Al-Nuqrashi Pasha twice. The assassination, he said, was in reprisal for the group being banned. Hassan was sentenced to death. Three accomplices received life sentences.
Attempted assassination of Gamal Abdel-Nasser (1954)
On 26 October 1954 Muslim Brotherhood member Mohamed Abdel-Latif attempted to assassinate former president Gamal Abdel-Nasser as he delivered a speech in Alexandria. The gunman was 25 feet away from Nasser and fired eight shots, all of which missed their target. Panic broke out in the audience but Nasser maintained his poise and appealed for calm.
Assassination of Anwar Al-Sadat (1981)
Anwar Al-Sadat was assassinated on 6 October 1981 during the annual celebration of the 1973 victory. The Islamic Jihad group and Al-Gamaa Al-Islamiya claimed responsibility for the killing.
Lieutenant Khaled Al-Islambouli threw three grenades at Sadat as he stood to receive a salute. Only one of the three exploded. At the same time Al-Islambouli's accomplices opened fire at the president's stand.
The attack lasted two minutes. Al-Sadat and 11 others were killed, including the Cuban ambassador, an Omani general and a Coptic Orthodox bishop. Twenty-eight were wounded, including then vice president Hosni Mubarak, Irish defence minister James Tully,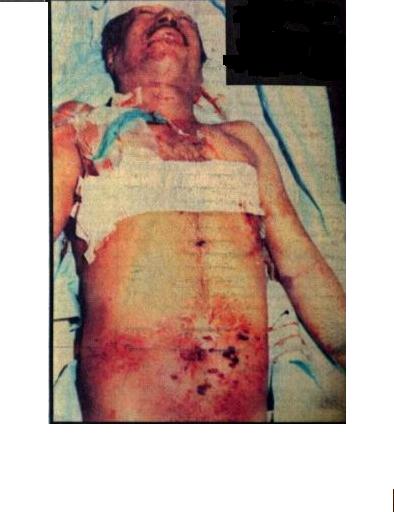 and four US military liaison officers. Security forces reacted within seconds.
One of the attackers was killed and three others injured and arrested. Sadat was airlifted to a military hospital where 11 doctors operated on him. He died two hours after arriving at the hospital.
Assiut terrorist attack (1981)
Two days after the assassination of Sadat Al-Gamaa Al-Islamiya attacked Assiut city police headquarters in an attempt to take control of the city. At least 68 policemen and soldiers were killed. After two days security forces were able to control the situation and arrest the leaders of the attack.
In May 1987, Al-Nagoun Min Al-Nar group led an assassination attempt against former minister of interior Hassan Abu Basha. The attack was staged near Basha's home in Cairo. Unidentified gunmen seriously injured the minister who underwent surgery following the attack. The group also attempted to kill former minister of interior Al-Nabawi Ismail on 13 August the same year.
1990s terrorism
The 1990s saw Al-Gamaa Al-Islamiya engaged in an extended campaign of violence. Prominent writers and intellectuals were targeted alongside tourists and other foreigners. Tourism consequently suffered as the numbers of visitors to Egypt plummeted.
Assassination of Refaat Al-Mahgoub (1990)
On 13 October 1990 Al-Gamaa Al-Islamiya assassinated parliamentary speaker Refaat Al-Mahgoub. Police and witnesses said gunmen on motorcycles sprayed his chauffeured sedan with automatic-rifle fire before disappearing from the scene. Three guards were killed in the attack.
Seven members of Al-Gamaa Al-Islamiya, most of whom had fought in the Balkans, were accused of the attack.
Assassination of Farag Fouda (1992)
Writer Farag Fouda was shot on 8 June 1992 after leaving his office. Two members of Al-Gamaa Al-Islamiya were responsible for the attack which left several bystanders injured.
One of the assassins, Abul-Ela Abd Rabu, was released from prison in 2012 under Mohamed Morsi's rule. In recent interviews Abd Rabu has expressed no regrets for what he did.
In an interview broadcast on Al-Arabiya on 14 June Abd Rabu defended his actions, saying
"the punishment for an apostate is death, even if he repents"
and
"if the ruler does not implement the Sharia, any citizen is entitled to carry out Allah's punishment"
.
Attempted assassinations (1993-1994)
On 18 August 1993, former minister of interior Hassan Al-Alfi survived an assassination attempt in Cairo. Al-Alfi was seriously injured in the attack which claimed the lives of at least four people.
one of whom was his bodyguard. In April the same year the minister of Information at the time Safwat Al-Sherif escaped an assassination attempt by Al-Gamaa Al-Islamiya with minor injuries. The attack
was followed in November by an attempt to kill former prime minister Atef Sedki who survived the assassination. Al-Gamaa Al-Islamiya claimed responsibility for the attack.
In 1994 Islamist extremists almost succeeded in assassinating the 82-year-old novelist and Nobel literature laureate Naguib Mahfouz by stabbing him in the neck outside his Cairo home. He survived but suffered permanent damage to nerves in his right hand.
Assassination attempt of Hosni Mubarak (1995)
On 26 June 1995 members of Al-Gamaa Al-Islamiya and Islamic Jihad attacked the motorcade of President Hosni Mubarak as he arrived in Addis Ababa for a summit of African leaders. Mubarak's bulletproof limousine was pocked with gunshots though he remained unhurt.
Mubarak returned immediately to Egypt and oversaw a massive crackdown against the Islamist groups that had tried to assassinate him. The Ethiopian government said seven to nine gunmen
"of Arab origin"
participated in the attack.
The leader of the plot was Mustafa Hamza, a commander with Islamic Jihad. The plotters had been planning the attack for more than a year, and even married local women in Ethiopia for cover. They received assistance from the Sudanese intelligence services.
In 2012 Mohamed Morsi issued a pardon for Hussein Shamit, mastermind of the Mubarak assassination attempt. He had spent the previous two decades on the run from Egyptian and international forces.
Europe Hotel terrorist attack (1996)
In April 1996 members of Al-Gamaa Al-Islamiya killed 18 tourists outside a hotel in Giza.
The Greek holidaymakers were waiting outside the Europe Hotel when four men opened fire with automatic rifles and a pistol. The gunmen jumped into a waiting van and sped away.
Luxor massacre (1997)
In November 1997 six gunmen from the Islamic Group and Jihad Talaat Al-Fath massacred 62 tourists at Al-Deir Al-Bahari temple in Luxor. The six assailants, disguised as members of the security forces, were armed with automatic firearms and knives.
They arrived at the Temple of Hatshepsut at 08:45 and killed two guards. Tourists trapped inside the temple were the focus of a 45-minute orgy of killing. Many of the victims' bodies were mutilated with machetes. The dead included a five-year-old British child and four Japanese couples on their honeymoons.
Sharm El-Sheikh terrorist attacks (2005)
A group calling itself the Abdallah Azzam Brigades set off a series of bombs on 23 July 2005 targeting hotels in Sharm Al-Sheikh. The attacks took place in the early morning. The first bomb blast, at 01:15am at the Old Market bazaar in downtown Sharm El-Sheikh, left 17 people dead. A second bomb hidden in a suitcase exploded outside the Movenpick Hotel, four-star Ghazala Gardens hotel, killing 45 hotel guests.
Dahab bombings (2006)
On 24 April 2006 Al-Tawhid wal-Jihad terrorists set off three bombs in Dahab. At 19:15 bombs exploded near the Nelson restaurant, the Aladdin café and the Ghazala market. Twenty-three people were killed, the majority Egyptian and more than 80 were wounded.
The governor of South Sinai said at the time that the blasts might have been suicide attacks. Later Habib Al-Adli, the then interior minister, announced that the devices — nail bombs — had been detonated remotely. Subsequent investigations served only to further muddy the waters. According to a report by the International Crisis Group, the Dahab bombings appear to target the Mubarak government and stemmed in part from the "deep resentment" of local people caused by discrimination in "jobs and housing".
Gas pipeline bombing (2011)
In February 2011 Beit Al-Maqdis terrorist group led a series of attacks on the Arab Gas Pipeline, disrupting Egyptian gas supplies to the entire region. Similar attacks continued throughout 2012.
Arish police station attack (2011)
On 30 July a group of Islamist militants carrying Al-Qaeda black flags attacked the Arish police station killing at least six policemen. An estimated 100 armed men rode through the town in cars and on motorcycles waving flags with Islamic slogans before attacking the police station. The attack was followed by an announcement by Al-Qaeda in Sinai declaring its intention to form an Islamic caliphate in the peninsula.
On 5 August, 2012 armed men ambushed a military base in Sinai killing 16 soldiers and stealing two armoured cars. The attackers then broke through the Kerem Shalom border crossing to Israel where one of the vehicles exploded. In the ensuing gunfight Israeli soldiers killed six of the attackers.
The ambush was staged at sundown, as the soldiers were preparing to break their Ramadan fast. The attackers were dressed in Bedouin robes and armed with guns and rocket-propelled grenades. Thirty-five attackers took part. Reports soon circulated that Islamic Jihad militants from Gaza and global jihad fighters from Egypt were responsible for the attack. CNN cited an anonymous Egyptian general saying Al-Galgala Arm, a Hamas breakaway group, was behind the border attack.
Hostage crisis (2013)
In May 2013 security personnel were kidnapped by armed tribesmen in Sinai. Videos were subsequently released of the hostages begging for their lives. In response, the government beefed up its security presence in northern Sinai.
On 20-21 May Egyptian troops and police backed by helicopter gunships conducted a sweep through villages in northern Sinai and along the border with Israel.
Officials said security forces came under fire from gunmen in vehicles. The clashes left one gunman dead. The hostages were released on 22 May after talks between the captors and local Bedouin elders.
Second Rafah massacre (2013)
On 18 August 2013 Islamist militants killed 25 Egyptian conscripts in north Sinai. The terrorists forced two mini-buses carrying off-duty policemen to stop, ordered the policemen out and forced them to lie on the ground before shooting them. The Egyptian military arrested 11 people, including five Hamas members, three local residents and three foreign nationals, for their alleged involvement in the killings.
Military spokesperson Ahmed Ali said that operations in Sinai, from 5 July to 23 August, resulted in: 78 suspected militants being killed, including 32 foreigners; 116 people injured and 203 arrests, including 48 foreigners, for alleged involvement in attacks on security checkpoints. Some 343 tunnels between Egypt and Gaza at Rafah have been destroyed.
Assassination attempt on Mohamed Ibrahim (2013)
Ansar Al-Maqdis terrorist group claimed responsibility for last week's attack on the motorcade of Minister of Interior Mohamed Ibrahim. A car bomb exploded near the minister's Nasr City home around 10.30am. Ibrahim was unhurt but his bodyguard and bystanders were injured as the blast tore through the façade of a four-storey building.
The Sinai-based jihadist group issued a statement saying
"the butcher of the interior saw death with his own two eyes"
and vowed that
"what is coming will be worse and more bitter"
.