Tents set up by pro-democracy protesters are seen in an occupied area outside the government headquarters in Hong Kong's Admiralty district in Hong Kong Tuesday, Nov. 11, 2014

Hong Kong bailiffs and police are planning to take action at pro-democracy protest sites in the city as pressure grows on demonstrators to leave, the government said Tuesday.


Deputy leader Carrie Lam warned there was currently

"no room for negotiations"

between the authorities and protesters, urging them to move from rally sites after a court authorised bailiffs to call on police if they were stopped from carrying out clearances.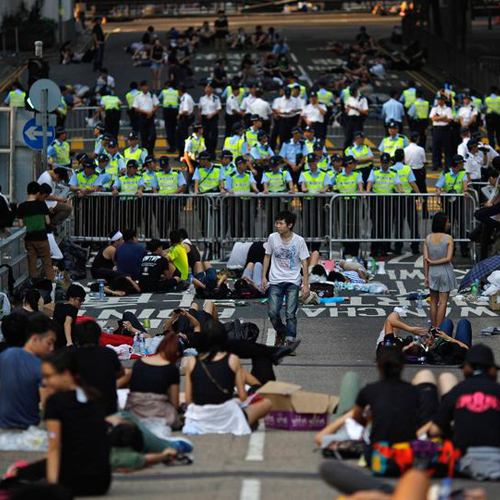 "The police will stay in touch with the

(court order)

applicants and the bailiffs. We are making plans for actions that need to be taken. I believe that soon, police will get in touch with the relevant parties to make such preparations."


Local media reported that the barricades could be removed in the coming days.

They also said that thousands of officers had been put on standby over the weekend.



"Police will gather 7,000 officers responsible for Occupy to standby for four days starting Thursday,"

Oriental Daily said, citing an unnamed source.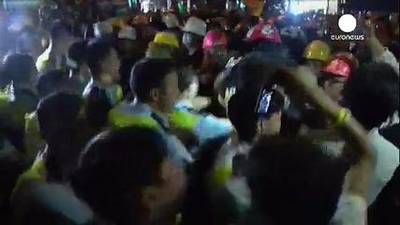 The police would

"only assist those who are to enforce the court order to clear obstructions. So far police have no intention to conduct a full clearance,"

broadcaster RTHK added, also citing an unnamed source.

Lam did not say what shape the 'actions' would take, or give a timescale.

Police were not immediately able to comment when approached by AFP.




"I strongly urge protesters who are still staying in the occupied areas -- whether the areas are covered by the injunctions or not -- they should voluntarily and peacefully leave... as soon as possible,"

Lam added.

The city's high court Monday authorised police to back up bailiffs tasked with clearing parts of the Hong Kong and Admiralty sites, covered by court injunctions granted to transport groups and landlords.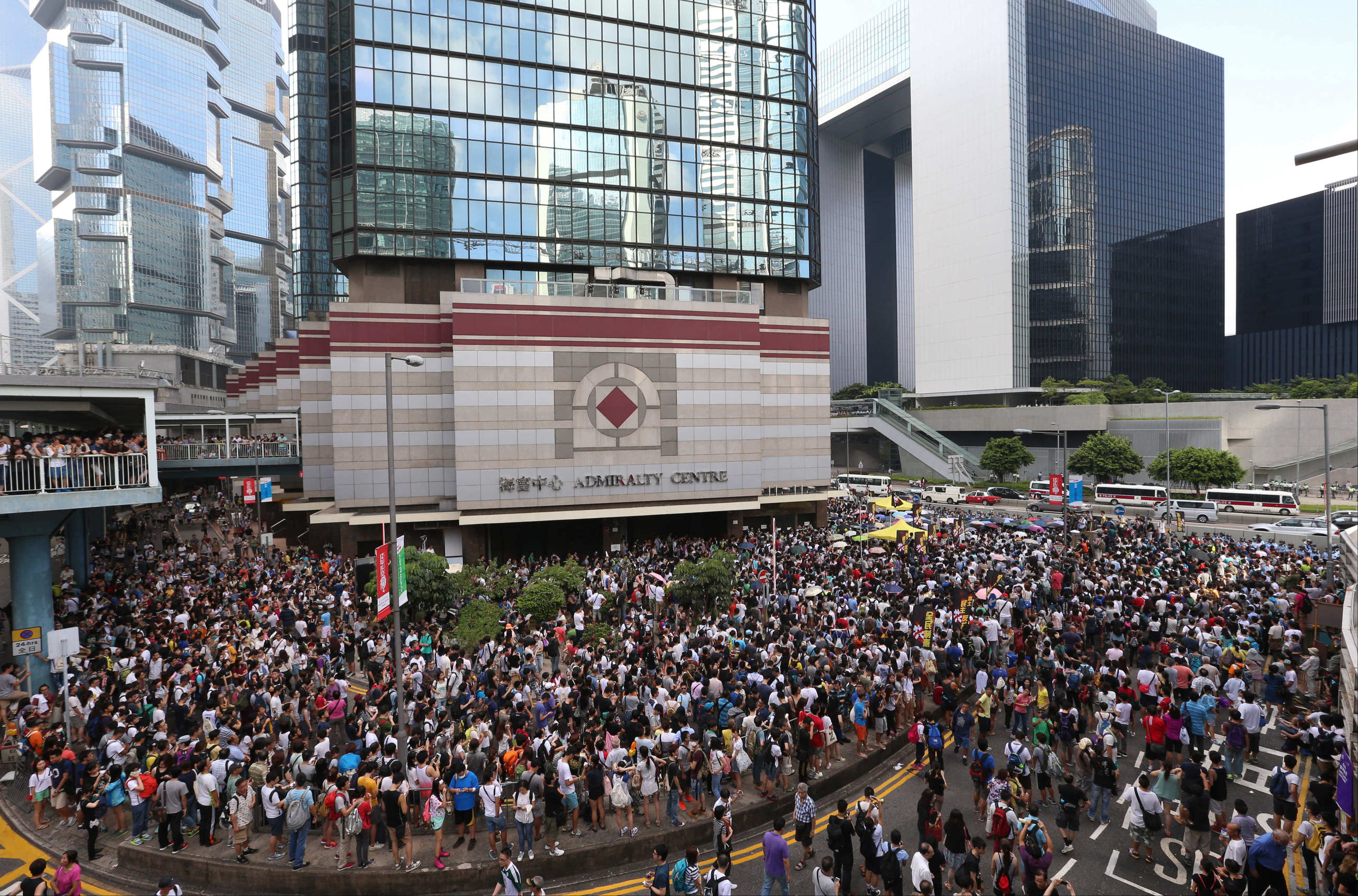 Protesters have been occupying key intersections around the city for more than a month.

They are calling for fully free leadership elections in 2017, but Beijing has insisted that all candidates be screened by a loyalist committee.

But public support for the occupation is not on their side: a poll conducted by the liberal Ming Pao newspaper between October 31 and November 5 released Monday found 70 percent of 1,005 respondents wanted it to end.


About 18 percent of those polled said they had participated in Occupy.

Talks with the government over political reform have proved fruitless, with protest leaders now saying they want to take their demands direct to Beijing.

China has consistently backed the Hong Kong administration.


Lam said Tuesday that there was

"no need"

for student protest leaders to go to Beijing if they were only going to repeat previous demands.

She criticised them for not showing

"sincerity"

after their previous talks with the Hong Kong government.



"Instead their stance has become even more hardline,"

she said.


Both Hong Kong and Beijing have branded the protests illegal.

Violence has flared sporadically during the weeks of demonstrations, with police using tear gas to disperse protesters on September 28, bringing tens of thousands onto the streets.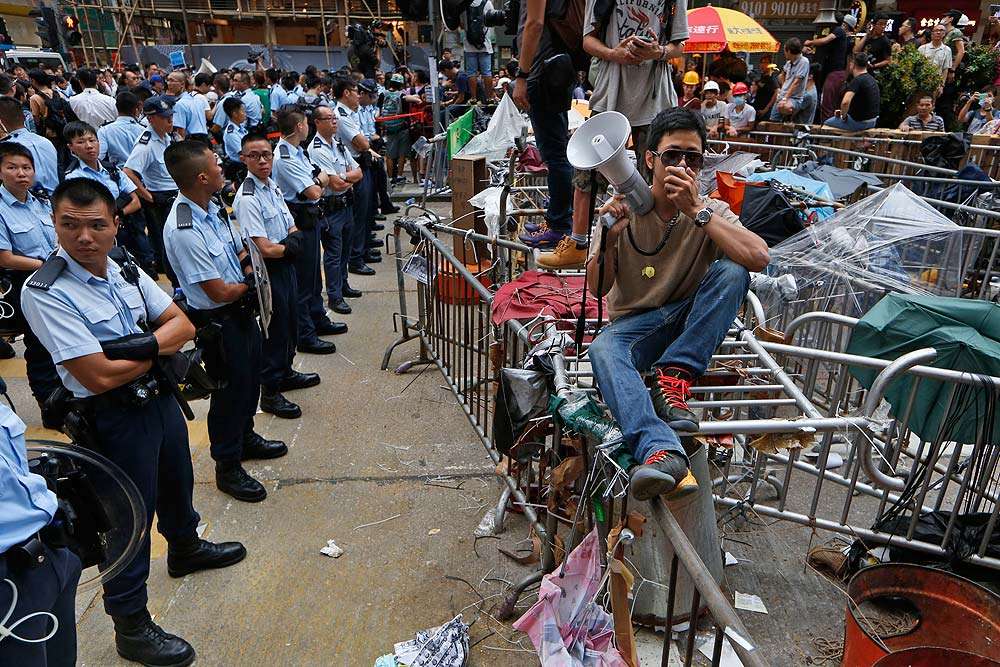 Although numbers have dwindled, protesters are entrenched, having set up tents, food stalls and toilet facilities at the sites.

Protest leaders have said that the movement will continue to occupy key sites, and demonstrators expressed defiance on Tuesday.




"Protesters are not going to let them clear... It's not difficult to put the plastic ties back (on the barricades) even if bailiffs are here to remove them,"

said Vincent Lam, 20.



"If they clear it, on the same night or next day we will take it back,"

added protester Puma Cheong.