UN Security Council
The U.N. Security Council imposed an arms embargo Tuesday on the leaders of Yemen's Shia Houthi rebels, former President Ali Abdullah Saleh and his son.
The resolution, approved in a 14-0 vote, is aimed at ending the Houthi military action against supporters of current President Abed Rabbo Mansour Hadi, who was forced to flee to Saudi Arabia.
The resolution demands that the rebels end their military campaign to take over the Arab world's poorest country, which is currently witnessing ground fighting and Saudi-led airstrikes in support of Hadi.
Russia, which had insisted on an arms embargo on all parties to the conflict, abstained.
The resolution imposes the weapons embargo on five men: Houthi leader Abdul-Malik al-Houthi, second-in-command Abdullah Yahya al Hakim, military commander Abd al-Khaliq al-Huthi, Saleh and the former president's eldest son, Ahmed Ali Abdullah Saleh.
The council called on all countries, especially Yemen's neighbors, to inspect cargo headed to Yemen if there are
"reasonable grounds"
to believe it contains weapons.
In addition, the council imposed an asset freeze and travel ban on the Houthi leader and Saleh's son. The same sanctions had already been imposed on the other three men last November.
The resolution demands that all Yemeni parties, especially the Houthis, end violence and quickly resume U.N.-brokered negotiations aimed at a political transition.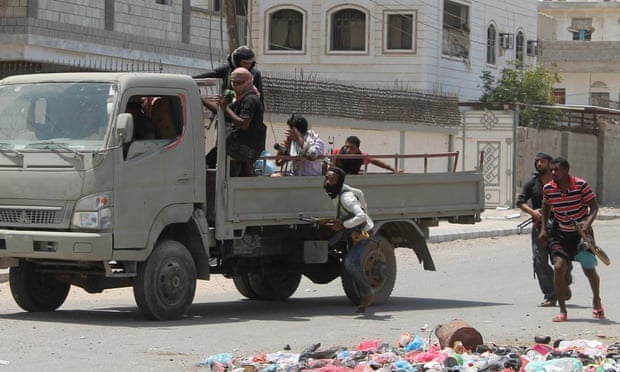 The council asked U.N. Secretary-General Ban Ki-moon to intensify efforts to deliver humanitarian aid and evacuate foreigners, including establishing
"humanitarian pauses"
in coordination with the government of Yemen. It called on all parties to facilitate the aid delivery and evacuation of foreigners.
The resolution demands that the Houthis withdraw from areas they have seized, including the capital of Sanaa, relinquish arms and missiles seized from military and security institutions, and release the defense minister and all political prisoners.
It threatens further sanctions if any Yemeni party fails to implement the provisions of the resolution, as well as a previous one that also demanded an end to hostilities and participation in peace talks.
The Jordanians decided to put the resolution to a vote as Pakistan's Prime Minister Nawaz Sharif called on Iran, which backs the Houthis, to use its influence to help bring the rebels to the negotiating table.
Observers say the fighting in Yemen has increasingly taken on the appearance of a proxy war between regional rivals Iran, the Shia powerhouse, and Sunni-dominated Saudi Arabia.