The Egyptian president's visit to Moscow this week will mark his third trip to Russia since taking office last year
Russia's President Vladimir Putin (L) shakes hands with Egypt's President Abdel Fattah El-Sisi during a meeting in Cairo February 10, 2015
Egyptian President Abdel-Fattah El-Sisi will hold talks with his Russian counterpart Vladimir Putin in Moscow next week in efforts to boost strategic ties and economic cooperation between both states, the presidency announced on Thursday.
El-Sisi's three-day visit, which will begin on 25 August, highlights the
"special relations"
between Cairo and Moscow and
"reflects a common will to consolidate strategic relations between the two countries,"
the president's office said in a statement.
The talks will focus on promoting bilateral relations, namely bolstering trade and economic cooperation and promoting Russian investment in Egypt, the statement added.
The Kremlin said on Thursday that the discussions will include
"extensive exchange on international issues, primarily on the situation in the Middle East and North Africa."
Russia, the world's second-largest arms exporter, has also sought to reinforce military ties with Egypt.
The Egyptian army said earlier this week that Moscow has gifted Cairo with a new missile corvette that was part of the inauguration of the new Suez Canal expansion project earlier this month.
In June, Russia and Egypt held their first ever joint naval exercise.
This is El-Sisi's third visit to Russia in a year, after a trip in May and another last August, months after he came to office.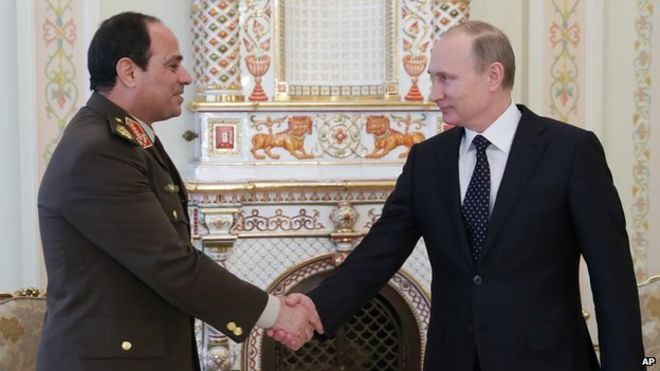 Russia's President Vladimir Putin visited Cairo in February, marking his first state visit to Egypt since 2005.
Cairo and Moscow began cultivating ties as Egypt's relations with the US soured following the 2013 ouster of Islamist Mohamed Morsi.
Tensions have recently eased between Cairo and Washington with the US resuming in March its
$1.3 million
annual military aid to Egypt that was partly suspended following Morsi's ouster to boost Cairo's ability to combat threat by extremists.