The Egyptian president gives a short speech to mark the Coptic Christmas mass in Cairo on Wednesday
Egypt's President Abdel Fattah El-Sisi greets Christians during Egypt's Coptic Christmas eve mass led by Pope Tawadros II in Cairo
Egypt President Abdel Fattah El-Sisi attended the Coptic Christmas mass on Wednesday for the second straight year at Saint Mark's Orthodox Cathedral in Cairo's Abbasiya district, where he gave a small speech to mark the religious event.
"We do not want anything to harm us [Egyptians] whether our economic or political circumstances,"
Sisi said, adding that diversity in religions, traditions and languages is part of
"God's norms of life."
The Egyptian President also apologised to Christians for the churches that were torched during clashes between supporters of ousted Mohamed Morsi and security forces following the dispersal of two pro-Morsi camps in August 2013.
"The Churches would be fully restored this year,"
he said.
Video footage broadcast by Egyptian state TV showed crowds cheering as Sisi entered the Cathedral with churchmen, saluting Pope Tawadros II, head of the Coptic Orthodox church.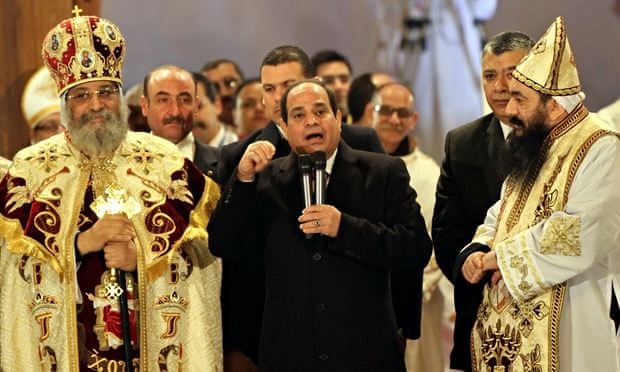 Sisi left shortly after finishing his brief speech.
Last year, Sisi became the first Egyptian president to attend the Coptic Christmas mass.
Coptic Orthodox Christians, who make up around 90 percent of Egypt's Christians, break their 43-day fast and celebrate Christmas on 7 January, almost two weeks after most Western denominations. The difference results from the use of different calendars.

Egypt President Abdel-Fattah El-Sisi attended the Coptic Christmas mass on Wednesday for the second straight year at Saint Mark's Coptic Orthodox Cathedral in Cairo's Abbasiya district


Pope Tawadros II, the 118th Pope of the Coptic Orthodox Church of Alexandria and Patriarch of the See of St. Mark Cathedral, leads Egypt's Coptic Christmas eve mass in Cairo, Egypt, January 6, 2016


Egypt's President Abdel Fattah al-Sisi (C) receives flowers during Egypt's Coptic Christmas eve mass led by Pope Tawadros II, the 118th Pope of the Coptic Orthodox Church of Alexandria and Patriarch of the See of St. Mark Cathedral, in Cairo, Egyp


Egyptian Coptic Christians celebrate Christmas in Cairo, Egypt


Egyptian Coptic Christians celebrate Christmas in Cairo, Egypt


Egypt's President Abdel Fattah al-Sisi (C) greets a priest during Egypt's Coptic Christmas eve mass led by Pope Tawadros II (back), the 118th Pope of the Coptic Orthodox Church of Alexandria and Patriarch of the See of St. Mark Cathedral, in Cairo, Egyp


A boy holds a flower during Christmas Eve Mass at St. Mark's Cathedral, in Cairo, Egyp


Pope Tawadros II, the 118th Pope of the Coptic Orthodox Church of Alexandria and Patriarch of the See of St. Mark Cathedral, leads Egypt's Coptic Christmas eve mass in Cairo, Egypt


Egypt's President Abdel Fattah al-Sisi (C) greets Christians during Egypt's Coptic Christmas eve mass led by Pope Tawadros II (L), the 118th Pope of the Coptic Orthodox Church of Alexandria and Patriarch of the See of St. Mark Cathedral, in Cairo, Egypt


Coptic Pope Tawadros II, left, greets Egypt's President Abdel-Fattah el-Sissi, during Christmas Eve Mass at St. Mark's Cathedral, in Cairo, Egypt


Egypt's President Abdel Fattah al-Sisi (C) greets Christians during Egypt's Coptic Christmas eve mass led by Pope Tawadros II (L), the 118th Pope of the Coptic Orthodox Church of Alexandria and Patriarch of the See of St. Mark Cathedral, in Cairo, Egypt


Women pray during Christmas Eve Mass at St. Mark's Cathedral, in Cairo, Egypt


People try to shake hands with Egypt's President Abdel-Fattah el-Sissi, center, during Christmas Eve Mass at St. Mark's Cathedral, in Cairo, Egypt, Wednesday, Jan. 6, 2016


An elderly woman waves as Egypt's President Abdel-Fattah el-Sissi speaks during Christmas Eve Mass at St. Mark's Cathedral, in Cairo, Egypt